Average Temperatures in Payson, Arizona
What is the weather like in Payson, AZ? Elevation and season determines average temperatures. The elevation of Payson is 5,000 feet. However, the top of the Mogollon Rim averages 7,500 feet which carries temperatures of 12 to 12 degrees Fahrenheit higher than those in the town of Payson.
Current Temperature in Payson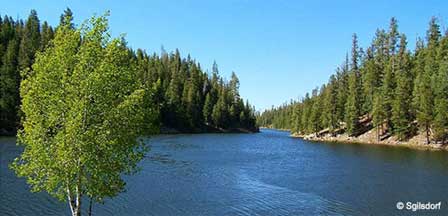 Average Temperatures By Month in Payson
The Payson Weather Chart reflects the average high and low temperatures for each month of the year. If you will be visiting the top of Mogollon Rim, adjust the temperatures accordingly for the higher elevation.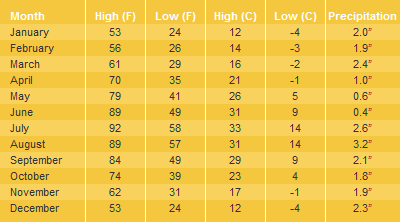 Best Time To Visit Payson and The Rim
Spring Weather. March high temperatures average in the low 60s and can fall to freezing overnight. Some sow is possible. April temperatures begin to rise reaching the high 70s during May.
Summer Weather. Summer brings peak visitation. Temperatures begin to rise in late May. July is the hottest month when the highs average in the 90 degree range. Late summer is the rainy season.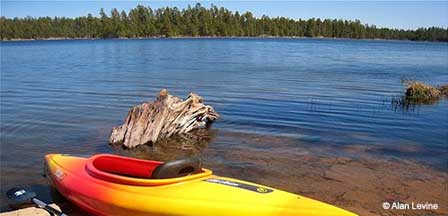 Autumn Weather. September highs will hover in the mid-80s and will gradually decrease to the 70s in October and 60s in November. This is usually the driest season of the year. It's a great time to visit Payson and the Rim with the arriving golden colors of fall.
Winter Weather. Paysson winters can become quite cold with average high temperatures from the high 40s to mid-50s falling well below freezing at night. Expect snow, particularly on the Rim where temperatures can be much more harsh at higher elevation. This is a great time for snow-play in the Payson AZ area.
Related Payson Interest
Payson Arizona
Aspen RV Campground
Canyon Point RV Campground
Christopher Creek
Christopher Creek RV Campground
Houston Mesa RV Campground
Mogollon RV Campground
Payson Area Map
Payson Area RV Parks
Payson Bed and Breakfasts
Payson Cabin Rentals
Payson Pictures
Payson RV Campgrounds
Payson Vacation Rentals
Rim RV Campground Payson
Sinkhole RV Campground
Spillway RV Campground
Tonto Natural Bridge Park
Strawberry Arizona
Weather In Payson
Beautiful White Mountains In Arizona