Sinkhole RV Campground Near Payson AZ
Sinkhole Campground is the nearest campground to Willow Springs Lake at about 1 mile south of the lake. Although Woods Canyon Lake is more popular and has several camping grounds in close proximity, many RVers and outdoor enthusiasts prefer the more serene Sinkhole Campground.
Like all camping sites on the Mogollon Rim in the Payson, Arizona area, Sinkhole sets an high elevation of nearly 7,600 feet guaranteeing cool and refreshing temperatures even during the peak summer months. It is located in heavy Ponderosa Pine forest. Nighttime temperatures can become chilly and drops to cold in the fall months.
Rainbow trout and the occasional largemouth bass are caught in Willow Springs Lake. There is a boat ramp for your convenience and there is an 8 HP electric boat motor limit at the lake. The Rim Visitors Information Center is located at the junction of State Route 260 and Rim Road.
There are only 26 campsites at Sinkhole Campground which permits RV camping and tent camping. All 26 campsites are first-come and may not be reserved. Get there early to avoid being shutout. If Sinkhole is full, there are several campgrounds in fairly close proximity. RV and tent trailers are limited to 32 feet maximum.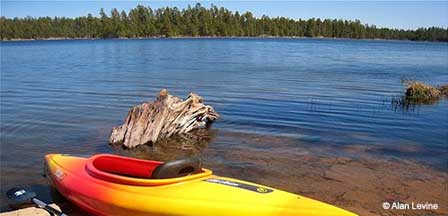 Very scenic hiking and mountain biking trails are located nearby the campground including General Crook Trail, which runs along the edges of the Mogollon Rim. A general store is located at Woods Canyon Lake Marina (about 2.5 miles from Sinkhole) where you can buy groceries, supplies, and fishing licenses, and rent boats.
Campground Amenities and Information
Concessionaire. On site during the season.
Fees. Nominal.
Season. May through October weather permitting.
Camping. Tent camping and RV camping.
Campsites. 26 family campsites
RVs and Trailers. Limited to 32 feet maximum.
Utility Hookups. None.
Reservations. First come, first served. No reservations.
Paved Access. Each site has a designated paved pull-out.
Willow Springs Lake. One mile away. Max 8 HP electric motors only.
Amenities. Grills, picnic tables, toilets, campfire rings, drinking water. Wood is available for sale from the camp host. Showers are available at Canyon Point Campground 5-miles away and are fee- based.
Sinkhole Campground Map Location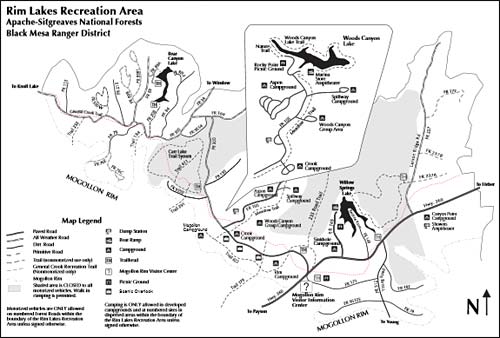 Directions From Payson.
Sinkhole campground is one quarter mile north of State Highway 260 toward Willow Springs Lake on Forest Road 149. Sinkhole Campground is the only developed campground near Willow Springs Lake, but is not hin view of the lake. Forest Road 149 is located approximately 1 mile east of the Rim Visitor Information Station or 25 miles west of Heber, Arizona and 35 miles west of Payson, AZ. Forest Lakes is located 6 miles east of the campground.
More Campground Information
Apache-Sitgreaves National Forests
Black Mesa Ranger District
(928) 535-7300
Related Payson Interest
Payson Arizona
Aspen RV Campground
Canyon Point RV Campground
Christopher Creek
Christopher Creek RV Campground
Houston Mesa RV Campground
Mogollon RV Campground
Payson Area Map
Payson Area RV Parks
Payson Bed and Breakfasts
Payson Cabin Rentals
Payson Pictures
Payson RV Campgrounds
Payson Vacation Rentals
Rim RV Campground Payson
Sinkhole RV Campground
Spillway RV Campground
Tonto Natural Bridge Park
Strawberry Arizona
Weather In Payson
Beautiful White Mountains In Arizona