Rim RV Campground Near Payson AZ
Although Rim Campground is considered an overflow campground for the Woods Canyon Lake and Willow Springs Lake area campgrounds, the Rim Campground is known for its spectacular "100-mile views" because it sets close to the edge of the Mogollon Rim at 7,540 feet. The panoramic views from high mountain forests are amazing.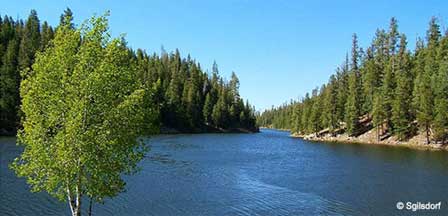 The Rim RV Campground is only one-mile from Woods Canyon Lake and 2.5 miles from Willow Springs Lake. Rim Campground permits both RV camping and tent camping. With only 26 camping sites, camping is less crowded than other lakes on the Mogollon Rim near Payson, Arizona. All campsites are first-come only. No reservations accepted.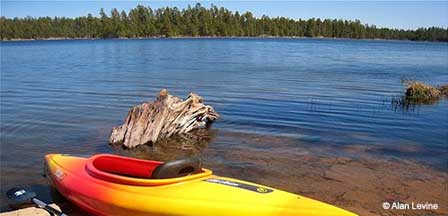 There is a store at the Woods Canyon Lake Marina that offers a limited selection of groceries, camping supplies and other items. It also provides fishing licenses, a batter charging station for those that bring their own trolling motors. It also rents boats if you do not bring one. Boat motors are limited to 8 HP electric motors only.
Check Payson Weather. But keep in-mind that the campground elevation at 7,540 feet is over 2,500 feet higher than downtown Payson, AZ which means temperatures at Rim Campground can average 10 t0 15 degrees cooler. RV camping is a blast. If you don't own one, consider renting an RV.
The Rim Campground permits both RV camping and tent camping. At an elevation of over 7,500 feet, you can expect very cool, refreshing summer temperatures in a heavily forested setting. Groceries, supplies and boat rentals are available at the Woods Canyon Lake Store.
Campground Amenities and Information
Concessionaire. On site during the season.
Fees. Nominal.
Season. Mid-May to weekend after Labor Day
Camping. Tent camping and RV camping.
Campsites. 26 family campsites
RVs and Trailers. Limited to 32 feet maximum.
Utility Hookups. None.
Reservations. First come, first served. No reservations.
Woods Canyon Store. Boat rentals and groceries.
Amenities. Grills, picnic tables, toilets, campfire rings, drinking water. Wood is available for sale from the camp host. Showers are available 5-miles away at Canyon Point Campground.
Campground Map Location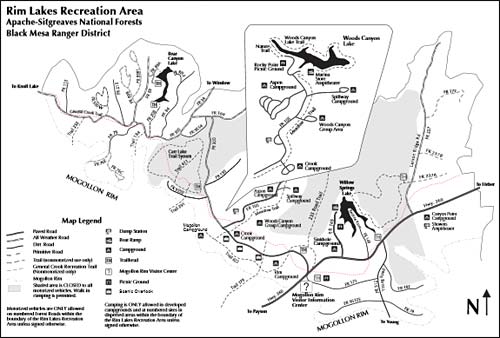 Directions. One mile north of State Highway 260 on Forest Road 300 toward Woods Canyon Lake. Forest Road 300 is located directly across from the Rim Visitor Information Station. Rim Campground is about 34 miles west of Payson, Arizona and about 24 miles east of Heber, Arizona.
More Campground Information
Apache-Sitgreaves National Forests
Black Mesa Ranger District
(928) 535-7300
Related Payson Interest
Payson Arizona
Aspen RV Campground
Canyon Point RV Campground
Christopher Creek
Christopher Creek RV Campground
Houston Mesa RV Campground
Mogollon RV Campground
Payson Area Map
Payson Area RV Parks
Payson Bed and Breakfasts
Payson Cabin Rentals
Payson Pictures
Payson RV Campgrounds
Payson Vacation Rentals
Rim RV Campground Payson
Sinkhole RV Campground
Spillway RV Campground
Tonto Natural Bridge Park
Strawberry Arizona
Weather In Payson
Beautiful White Mountains In Arizona