Payson Arizona RV Parks And Communities Near Payson AZ
Payson, Arizona is considered the geographic center of Arizona and sets at an elevation of about 5,000 feet and is located at the base of the Mogollon Rim where elevations can reach above 7,000 feet. Payson AZ is less than 90 miles from Phoenix, so it is a favorite getaway from the heat in the Valley of the Sun.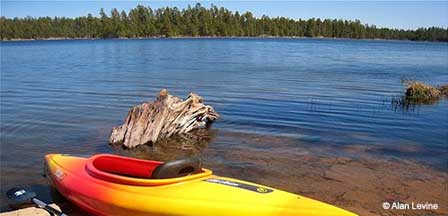 Following is a comprehensive list of Payson, Arizona Area RV Parks which includes those RV Parks in the towns of Strawberry, Pine, Christopher Creek and Star Valley which are all less than a 20 mile drive from Payson, AZ. Most of the RV Parks are conveniently located just of main roads unlike RV campgrounds in the more remote and primitive camping areas along the wilderness areas of the Mogollon Rim and National Forests.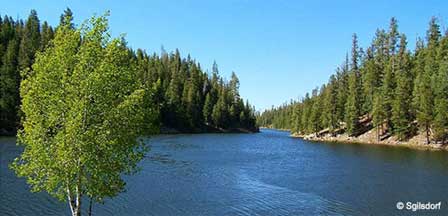 Also see RV and Tent Campgrounds
RV Parks in the Payson Area
Visit the websites of each listed RV Park for specific details. Some RV Parks are rustic and permit tent camping while others claim to be RV Resorts offering a wide-range of outdoor activities with clubhouse amenities. You can be sure all parks are located near lakes, streams, and hiking areas. If you don't own an RV or Motor Home, some parks may offer mobile home trailer rentals. Or consider renting an RV or motorhome.
Payson Campground & RV Resort
808 East Highway 260
Payson, Arizona 85541
928-472-2267
Oxbow Estates RV Park
962 West Oxbow Trail
Payson, Arizona 85541
928-474-2042
Mountain Shadows RV Park
609 South Colcord Road
Payson, Arizona 85541
929-7-3406
Lazy D Ranch RV Park
3655 East Highway 260
Star Valley, AZ 85547
928-474-2442
Happy Jack Lodge & RV Park
P.O. Box 19569
Happy Jack, Arizona 86024
928-477-2806
Lamplighter RV Resort
3933 East Highway 260 #500
Star Valley, Arizona 85541
928-474-5048
Strawberry RV Park
8143 West Fossil Creek Road
Strawberry, Arizona 84455
928-476-3503
Mogollon RV Park
2991 State Route 260
Forest Lakes, AZ 86931
928-535-4113
Related Payson Interest
Payson Arizona
Aspen RV Campground
Canyon Point RV Campground
Christopher Creek
Christopher Creek RV Campground
Houston Mesa RV Campground
Mogollon RV Campground
Payson Area Map
Payson Area RV Parks
Payson Bed and Breakfasts
Payson Cabin Rentals
Payson Pictures
Payson RV Campgrounds
Payson Vacation Rentals
Rim RV Campground Payson
Sinkhole RV Campground
Spillway RV Campground
Tonto Natural Bridge Park
Strawberry Arizona
Weather In Payson
Beautiful White Mountains In Arizona