Arizona Amusement Parks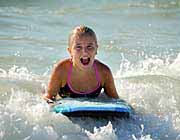 Water parks, game rooms, train rides, rock climbing walls, go cart racing and much more for kids of all ages and adults who still think they are kids. These amusement venues are great for family fun outings and birthday parties.
Alltel Ice Den - Scottsdale. The Alltel Ice Den is a 120,000 sq. ft, state-of-the-art, twin ice skating and entertainment facility located in Scottsdale, Arizona.
Amazing Jakes - Mesa. An all indoor fun factory including buffet, pizza , bowling, rides, go carts, climbing wall and more.
Big Surf - Tempe. Full mix of rides for the entire family. Challenge Hurricane Falls, a thrilling speed slide. Captain Cooks Landing will enthrall your little ones. America's original wavepool, with over 2 million gallons of water.
Castles N' Coasters - Phoenix. Whether you're young or old, big or small, you'll find lots of fun, food and excitement at Arizona's Finest Family Fun and Thrill Park.
CrackerJax Family Fun - Scottsdael. CrackerJax is Arizona's largest Family Fun & Sports Park with over 27 acres of excitement! CrackerJax is truly a "Family Fun" venue.
Desert Breeze Railroad Park - Chandler. Fun starts right away at the old time train station. Enjoy rides, a lake and playground area. Great birthday party venue.
Enchanted Island Amusement Park - Phoenix. Enchanted Island is filled with charm and magic, offering nine fanciful rides and a variety of popular attractions geared especially toward children aged 2 to 10.
F1 Race Factory - Phoenix. F1 Race Factory is America's Largest Indoor Kart Racing & Entertainment Venue. Everything from high-speed European kart racing to rock climbing, billiards and a wide selection of arcade games.
Freestone Park Railroad - Gilbert. The park is home to softball fields, basketball courts, sand volleyball courts, batting cages, soccer fields, a skateboard park, and walking trails around 2 lakes that house several well fed waterfoul.
Game Works at Arizona Mills - Tempe. Combines high-tech entertainment with a bar and restaurant for adults who still like to play games.
Golfland SunSplash Waterpark - Mesa. Experience The Master Blaster, a water roller coaster. tube uphill, rip down the other side and back up again! Challenge The Sidewinder half pipe thrill slide; a steep vertical drop sends you flying down first wall to the bottom.
Jeepers! - Mesa. Designed to please children ages two to twelve, Jeepers! is the ultimate family entertainment experience combining the rides and excitement of an outdoor amusement park.
Kiwanis Park Recreation Center - Tempe. Good times center around the wonderful amenities including fifteen lighted tennis courts, full size multi-use gymnasium, ramada and picnic areas in a park like setting, outdoor volleyball courts, four classrooms an indoor heated pool.
McCormick-Stillman Railroad Park, - Scottsdale. Take a ride on the Paradise and Pacific Railroad and antique carousel. Visit a variety of shops and museum or play in one of the spacious playgrounds, or just relax in the grass under a tree or in one of the park's picnic ramadas.
Xtreme Gaming - Mesa. Xtreme Gaming has the best and most popular multiplayer games o>n the market. We keep a close watch on all upcoming games and will purchase the best games upon release.
Speedway Raceway - Phoenix. Speedway prides itself on its top class facility. Whether your visit is personal or corporate, we have everything you need. Speedway's building includes all state of the art equipment.
Gameworks - Tucson. Combines high-tech entertainment with a bar and restaurant for adults who still like to play games
Golf n' Stuff! - Tucson. Golf n Stuff is proud to announce the arrival of our brand new bumper boats!! All new electric boats with super squirt guns so you can soak your friends!
Breakers Water Park - Marana Arizona. Breakers Bay is Arizona's Largest Wave Pool 1.3 Million Gallons of wave pool excitement. Enjoy the morning with your children at the New Captain Kidd's Surfari.
Most Popular Things To Do In AZ
Additional Arizona Activities