A Tour of Arizona Haunted Hotels
Arizona is full of ghosts. This isn't entirely surprising when you consider the rowdy history the state has enjoyed. Cowboys, murderers, rustlers, drunks, and ladies of the night all lived and died in Arizona's Wild West frontier towns. And according to numerous sightings, the ghosts of some of them reside there still. If you're feeling adventurous and get thrills out of being so frightened you get goosebumps as big as mountains then stay the night in an Arizona haunted hotel.
Ghost towns and even small towns and big towns have its share of ghost stories, spooky buildings and haunted hotels. Whether the stories are simply fabricated tales that became embellished over time or true stories of ghost sightings, Arizona ghosts and haunted hotels are as equally colorful as it early frontier days.
The spirits that haunt these hotels come in all shapes, sizes and attitudes. Some are friendly ghosts that merely yearn for live human contact while some are playfully ornery and get their jollies out of being annoying. Others intentionally frightening and want to scare the daylights out of the unsuspecting. While old hotel haunts feature great amenities and service, they serve guests with accommodations complete with unsatisfied spirits and ghostly occurrences.
Haunted Hotels In Jerome Arizona
In a territory of rough, wild frontier towns, Jerome, Arizona was rougher and wilder than most. The former copper mine and boomtown, known as "Ghost City", could be the most haunted place in Arizona. Now dwindled to 400 inhabitants, at one time Jerome had a population of 15,000. Even in a lawless region, Jerome had a terrible reputation; prostitution, opium dens, gambling, murder and mayhem abounded. And that was just on weeknights. Perhaps because Jerome's citizens led particularly colorful, but brutal lives, their revenants have left a psychic imprint on the buildings where they lived and died.
The present-day population of Jerome comprises innkeepers, artists and peaceable types. But the old-time residents are still a major tourist attraction. They may not be there in body, but they certainly are in spirit.
Whether you're a skeptic or a believer, a visit to one of Jerome, Arizona's haunted hotels would certainly make a memorable holiday. Imagine the fun you'd have showing off your vacation photos. "Oh yeah, that bit of white mist near the bathroom is our resident cowboy ghost. We called him Wilbur."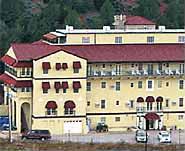 Jerome Grand Hotel – 200 Hill Street. Horror aficionados will tell you that it's probably not a good idea to turn a defunct 1920s hospital and asylum into a hotel. But those in search of atmosphere and a possible ghost sighting will be glad the owners of the Jerome Grand Hotel never read much Steven King.
A stately Spanish Mission style building, the hotel sits perched on a hill overlooking the town. This is suitably gothic in itself. The phantom of an elderly bearded miner haunts the second floor. He's also a habitué of the third floor, which he shares with the ghost of a little boy. The revenant of an old woman dressed in white sometimes appears near the elevator.
One of the ghosts is the shade of a caretaker who died in the 1930s during the hospital's era. He was found at the bottom of the elevator shaft with his neck broken. It's suspected that his death was a murder, although no one was ever arrested. He's understandably just a bit grumpy, so he flicks the lights on and off in the elevator and isn't particularly smiley when he does show himself.
The hotel's staff can claim the most sightings and spooky happenings; largely because they're in the hotel so often, and because the ghosts seem to like teasing them. Witnesses say they've experienced objects moving about, doors opening and closing on their own, strange noises, ghostly voices, and appliances that turn themselves on and off. And, of course, they see more phantoms than any of the guests.
Jerome Grand Hotel
200 Hill Street
Jerome, Arizona 86331
1-888-817-6788
---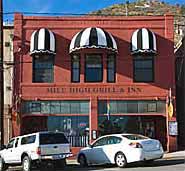 Mile High Inn – 309 Main Street. The Mile High Inn's most famous ghost is Jennie Banters, a madam who ran a bordello on the premises in the early 1900s. She became quite wealthy from her endeavors, but was murdered in the end by one of her clients. Although she wasn't murdered on the premises, she seems to like it there. Her ghost haunts the kitchen and several of the eight guest rooms and she's been known to get annoyed and fling objects about when she thinks they haven't been put away properly.
An elderly man also haunts the inn. His is a kindly presence and he sticks to the bedrooms, where he occasionally re-arranges pictures. Less benign is the spirit of a younger, grumpier man who is blamed for the cold, eerie winds that sometimes manifest where winds really shouldn't be blowing.
There's also a phantom pussycat at the Mile High, thought to have belonged to Jennie Banters. It leaves its paw imprints on guest room beds (even ghost cats love fresh laundry) and likes to brush up against the legs of guests and staff. The cat is often seen, but vanishes before it can be touched or picked up.
Mile High Inn
309 Main Street
Jerome, Arizona 86331
(928) 634-5094
---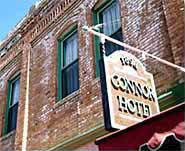 The Connor Inn – 164 Main Street. Built in 1897, the Connor Hotel has burned down at least twice over the years, and has re-opened and closed down several times, but once again thrives as a hotel. Guests have reported the sound of women's voices laughing and murmuring in one of the bedrooms. In another rooms there've been reports of a dog growling, someone coughing and objects moving around by themselves.
Connor Hotel
164 Main Street
Jerome, Arizona 86331
1-800-523-3554
---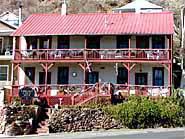 Ghost City Inn – 541 Main Street. Now run as a Bed & Breakfast, the Ghost City Inn building has survived a variety of uses; variously a boarding house, private residence, restaurant, funeral home, and art gallery. But whatever its incarnation, the building is home to spectral residents in the form of a male and female ghost, who slam doors and utter spooky murmurings.
Ghost City Inn
541 Main Street
Jerome, Arizona 86331
1-888-634-4678
---
Haunted Hotels In Southern Arizona

Copper Queen Hotel
11 Howell Avenue
Bisbee, Arizona
(520) 432-2216

Gadsden Hotel
1046 North G Avenue
Douglas, Arizona
(520) 364-4481

Oliver House
26 Sowles Avenue
Bisbee, Arizona
(520) 432-1900
The Clawson House
116 Clawson Avenue
Bisbee, Arizona
(520) 432-7435
Central & Northern Arizona Haunted Hotels

Hotel Monte Vista
100 North San Francisco Street
Flagstaff, Arizona
(800) 545-3068

Downtown Prescott Hotel
129 North Cortez Street
Prescott, Arizona
(928) 778-1776

Hassayampa Inn
122 Gurley Street
Prescott, Arizona
(928) 778-9434

Hotel San Carlos
202 North Central Avenue
Phoenix, Arizona
(602) 253-4121

Oatman Hotel
181 Main Street
Oatman, Arizona
(928) 768-4408
Most Popular Things To Do In AZ
Additional Arizona Activities