Horseback Riding in Arizona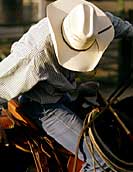 What's a visit to Arizona without some horseplay? Horseback riding is a relaxing way to experience Arizona's natural beauty. To absorb the aura of the old west. From the desert areas, high mountain country or along rivers and canyons, you will see an Arizona from a different view. Whether you want a leisurely few hour ride into the sunset, an entire day with guided by cowboys, an overnight horseback camp outing, or a week at a working cattle ranch, there is an Arizona horseback riding experience waiting for you. Also see Horseback Riding in Phoenix and Tucson Horseback Riding.
Other great locations riding the equestrian trails are Wickenburg AZ, the Arizona White Mountains area, in the pines of Prescott, Arizona, horseback riding in Payson, Arizona.
Betty's Trail Rides - Castle Hot Springs. You will start your ride from an authentic old cowboy camp/ranch headquarters built not for tourists, but before tourists located in the Castle Hot Springs area near Lake Pleasant.
OK Corral Horseback Riding Stables. Our horseback trail riding adventures take place all year round in the Superstition Mountain Region, Apache Junction - Phoenix, Arizona.
Saguaro Lake Ranch Trail Rides. Come experience the "Old West" the real cowboy way - on horseback. Our riding stables provide guided horse trail riding for Phoenix, Scottsdale, Mesa, Tempe and Fountain Hills.
Arizona Horseback Experience - Near Tucson. Exciting horseback riding, just a short scenic drive from Tucson, Arizona, in the heart of Arizona's wine country.
Trail Horse Adventures - Sedona Arizona. Located in awesome Sedona, AZ these are guided horseback tours with the largest, most professional outfitter in the state.
Hitchin' Post Stables - Flagstaff AZ. Ride through northern Arizona's most beautiful scenery. Feel at home with your expert wrangler as he or she guides you through breathtaking canyons and parks.
Kohl's Ranch Stables - Near Payson AZ. Professional guides will take you on trails of breathtaking scenery while telling you about the abundant plant and animal life found along the way.
Cave Creek Trailrides - Cave Creek AZ. Cave Creek Trailride's Cowboys and Cowgirls will give you the mining history of the area, both of Cave Creek and Phoenix, Arizona and educate you on the unique desert flora and fauna.
Ponderosa Stables - Phoenix. With over 40 miles of trails covering 18,500 acres, South Mountain Park is renowned as the largest municipal park in the world.
Houston's Horseback Riding - Tucson. Our ranch is located on the east side of Tucson in the serene Tanque Verde Valley surrounded by old mesquite trees. Access to miles and miles of trails into the Sonoran Desert are readily available.
Don Donnelly Riding Stables - Gold Canyon. Don Donnelly Stables are located in the foothills of the legendary Superstition Mountains on 5,800 acres of pristine Sonoran Desert in Gold Canyon, Arizona.
MacDonald's Ranch - Scottsdale AZ. Located in the tranquil Sonoran Desert of Scottsdale, Arizona, MacDonald's Ranch offers activities for small parties, large conventions or corporate gatherings.
Oatman Stables - Oatman Arizona. The trail ends in the famous ghost town of Oatman, Arizona where gunfighters still rage and wild burros still roam.
Most Popular Things To Do In AZ
Additional Arizona Activities