Arizona Skydiving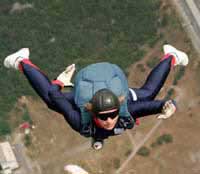 There is something exciting about a rapidly descending view high above the Arizona landscape. A quiet and serene sensation yet with the pulse of adrenaline flow as the ground rapidly approaches. Every view has a perfect perspective. Trails below look like strands of hair. Rivers appear as quiet serpents. For a while it's as though civilization below doesn't exist.
Skydiving in Arizona is a thrill. Whether you desire a one-time tandem parachute jump, want to become a new student and an avid jumper or are already an experienced skydiver looking for a convenient jump location, our list of jumping spots makes it easy. Arizona is a popular stomping ground for the parachuting enthusiast with a diversity of landscape throughout Arizona where the beauty of scenes below are breathtaking.
Desert Skydving Center - Buckeye Arizona. Whether you are an advanced skydiver or looking to make your first jump our doors are open and make yourself at home. There is an experienced and friendly staff on hand to assist you.
Skydive Arizona - Eloy Arizona. Once you have experienced Skydive Arizona, you'll know why more and more skydivers choose more sun, more jumps, more fun.
Skydiving Coolidge Arizona. Skydive Coolidge is AZ's friendliest dropzone. We pride ourselves in making your experience safe, fun and memorable.
Red Rock Skydiving - Sedona Arizona. Red Rock Skydiving combines the exhilaration of a freefall skydive with the best 'flight-seeing' northern Arizona has to offer!
Iparaglide School & Tours - Scottsdale AZ. Paragliding is a natural evolution of recreational flying that sits somewhere between the modern skydiving canopy and the hang glider.
Sky Venture Arizona - Eloy AZ. Indoor Skydiving gives you the opportunity to experience the freedom of flight with no parachute or experience needed. Find out why birds sing without having to actually jump from an airplane.
Phoenix Area Skydiving - Near Phoenix. We are located only 25 minutes South of Phoenix making Phoenix Area Skydiving the closest skydiving center serving the Phoenix area.
Most Popular Things To Do In AZ
Additional Arizona Activities