Hiking Trails In Arizona
The Arizona landscape is so diverse from the desert and mountain hiking trails in the Phoenix, Scottsdale and Tucson areas to the cool high country of Northern Arizona, Arizona Lakes, Rivers, Grand Canyon, Superstition Mountains, White Mountains, Slot Canyons and wilderness backcountry. Hiking Arizona trails is a magical experience whether you choose short, easy hikes or long strenuous hikes. There are beginner trails, day urban hikes and trails that only the experienced should attempt.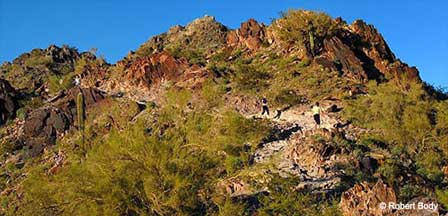 There are literally hundreds and hundreds of trails scattered throughout Arizona and the best way to expose an Arizona resident or vacationer to the wide variety of hiking choices is to give you links to some of the best Arizona hiking websites and web pages.
Greater Phoenix Trails
Northern Arizona Hiking Trails
White Mountains Hiking Trails
Southern Arizona Hiking
Southern Arizona Hiking Trails
Highly Recommended Hiking Websites
Arizona Hiking Trails
This is one of the most in depth, comprehensive Arizona Hiking websites on the web listing over 100 hiking trails in Arizona with detailed overviews. Select trails by Arizona region.
Weekend Warriors Hiking Guide
This website overviews over a hundred Arizona trails including directions and maps. You can spend hours in this website.
Arizona Hiking Guides, Maps & Outfitters
Find expert hiking guides, maps and outfitters that provide hiking gear, camping equipment, hiking apparel, hiking boots, rock climbing gear, backpacks, tents. topo maps and much more to make your backpack hiking and camping safer, convenient and more fun.
Four Season Guides. Amazing guided tours of Grand Canyon, Havasu Falls, Canyonlands, Escalante, Grand Gulch and various other hiking locations throughout the Southwest. Come join us for a hiking or trekking adventure that will leave you with memories lasting a lifetime!
Wildland Trekking Company - Grand Canyon Hiking Guides. An adventure hike into the Grand Canyon is a journey through time into one of the earth's most mysterious and spectacular of landscapes.
Angels Gate Tours - Grand Canyon Hiking. Grand Canyon is breathtaking from the rim, but for a more intimate and personal experience you must venture into the backcountry.
Sedona Hiking & Vortex Tours. If you really want to see Sedona you need to get out on the hiking trails and hike high into its red rocks or down into its canyons.
Sedona Hiking Adventures. Our Sedona hiking tours incorporate the best of what there is to do and see during any given season. Fall foliage walks up West Fork trail, summertime blackberry sampling and swimming along one of our many creeks, even full moon hikes and stargazing trips can be arranged.
Most Popular Things To Do In AZ
Additional Arizona Activities