Weather and Average Temperatures At The Grand Canyon South Rim
The South Rim of the Grand Canyon covers about 26 miles along Desert View Drive. Elevations range from about 6,900 to 7,600 feet depending on location, so average temperatures can vary slightly. There are four distinct seasons at the South Rim. It is strikingly beautiful at any season although temperatures can vary significantly. During winter months into early spring, the Canyon can be covered with snow creating outstanding views.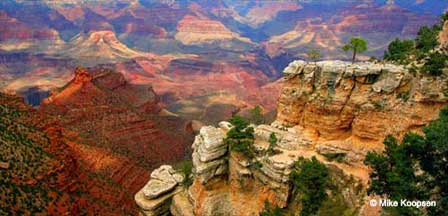 The following summarizes weather, climate and temperatures by each month during each season. If you plan on hiking into the depths of the inner canyon, temperatures can rise progressively as elevation diminishes. The gates to the South Rim are always open except for rare inclement weather conditions and road closures during extreme winter weather.
Average Temperatures By Month At The South Rim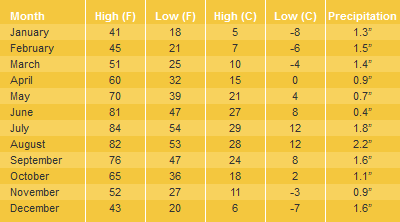 Temperatures In The Canyon Floor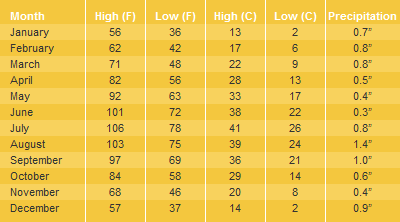 Spring Weather and Temperatures At The South Rim
By mid-April, winter weather usually begins to break, and although snow is not uncommon in May, warm spells become more frequent. The cold winter temperatures give way to warming and a pleasant spring. This is a great time to visit the Canyon if you prefer smaller crowds since school's usually do not break for summer vacation until late May.
Summers At The South Rim
You will discover the largest crowds during the summer months. Summer temperatures are quite pleasant. If you plan on hiking or riding mules into the depths of the canyon temperatures can rise dramatically. You must dress accordingly in layers and carry an adequate supply of drinking water. Summer thunderstorms frequently occur during July, August, and early September with potential for torrential rains, frequent lightning, and sudden flash floods at the canon floor. Thunderstorms are variable in intensity and are more likely to occur mainly between 11 AM and 6 PM. Some of these storms can reach severe levels, with large hail and strong winds.
Fall Temperatures At The South Rim
Summer heat gives way to cooler temperatures during the fall months of September and October with progressively cooler temperatures into the later fall periods. Potential for summer rains typically diminish in early September. However, late summer thunderstorms or early winter snow storms have been known to take place during season transition creating sudden changes in temperature.
Winter Temperatures and Weather
Winter weather conditions on the South Rim can be harsh. However, the Grand Canyon is beautiful when covered with winter snow. Services and some facilities at the South Rim are open all year, but be prepared for cold temperatures, snow, icy roads and possible road closures. Dress in layers since very chilly morning hours become warmer as the day progresses.
The Spectacular Grand Canyon
Related Grand Canyon Interest
Grand Canyon National Park
Grand Canyon Airplane Tours
Average Temperatures South Rim
Bright Angel Trail
Desert View Watchtower
Grand Canyon Camping
Grand Canyon Deer Farm
Grand Canyon Desert View Map
Grand Canyon Jeep Tours
Grand Canyon Pictures By Koopsen
Grand Canyon Mule Ride
Grand Canyon Private Tours
Grand Canyon Rafting
Grand Canyon South Rim Trail
Grand Canyon Winter Pictures By Koopsen
Grandeur Point South Rim
Grandview Point South Rim
Havasu Falls Pictures
Havasupai Indians
Grand Canyon Helicopter Tours
Hiking Bright Angel Trail
Lipan Point South Rim
Mather Point South Rim
Moran Poinf South Rim
Navajo Point South Rim
North Rim Map
One Day Mule Ride
Robert Body Grand Canyon Pictures
Scenic Canyon Tours
Shoshone Point South Rim
South Rim Grand Canyon Directions
South Rim Hours & Entrance Fees
Grand Canyon Summer Hiking
Trail Of Time South Rim
Visiting Grand Canyon In Winter
West Rim Map
Yaki Point Grand Canyon
Yavapai Point Geology Museum