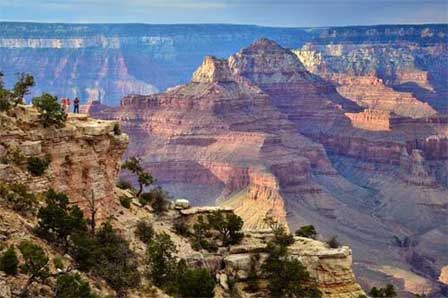 Photo of Shoshone Point Overlook. Credit: NPS
Shoshone Point. Few visitors are even aware that Shoshone Point even exists. Incredible scenic beauty. Tranquility and solitude. Designed for large groups that can rent the facilities during peak season from May 1 through October 15. When not reserved or from October 16 through April 30, Shoshone Point is open to the public.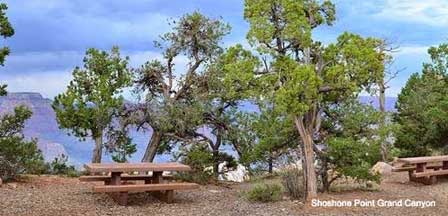 Not many people are familiar with Shoshone Point. It's possibly the best kept secret at the Grand Canyon South Rim. The views from Shoshone Point are simply jaw-dropping and the solitude without the crowds is the best you can experience without hiking deep into the canyon.
Here's the catch. During the peak season of May 1 through October 15, the site may be reserved for weddings and other personal group events. When rented the public is not invited. Check with the National Forest Service for scheduled reserved events.
From October 16 through April 30, the public is welcome to hike into Shoshone Point which is about 1.2 miles in and 1.2 miles out for a round trip hike of 2.4 miles. It is an easy, fairly level hike through the pine tree forest to the point. It is the perfect place for a day trip to the Grand Canyon for those that would enjoy a short hike to tranquil solitude and an up close almost private experience with the canyon.
Your hike/walk begins at a locked gate. Skirt the gate and follow the road to the point. There is a slight elevation climb of about 200 feet to the rim framed by oaks and junipers. The hike is not handicap accessible and there is no drinking water at the destination. You will find a developed picnic area with a covered facility with picnic tables, fire pits, grills and a toilet. However, those facilities are not available to the public except by rental during the season.
About 100 yards past the facilities you will reach the extreme edges of the Grand Canyon with breathtaking views across the canyon. Often you can hear the raging waters of Hance Rapids off in the distance. Be very careful because there is no rail protection at some sheer drop-off points.
Although the picnic and ramada facilities are off limits to the non-renting public, the occasion calls for an enjoyable picnic along the rim's edges. An incredible experience with amazing views. As a warning, this is not a place for over-consumption of alcoholic beverages. There are several drop-offs that are not protected by rails.
During periods of winter snow, you can ski the trail to Shoshone Point. However, as you begin to reach the rim, remove your skis to prevent accidents at the canyon's edge. Camping is not permitted and the hike back to your vehicle should begin before dark.
Shoshone Point Facilities For Rent
Shoshone can be reserved for weddings, birthday celebrations, reunions, memorials and similar events. The site features a covered pavilion. picnic tables, cooking grills, fire pits, a vault toilet, and trash receptacles. Events are only available between May 1 and October 15 and can be reserved up to one-year in advance on a first come, first served basis.
Rules, regulations and reservation fees apply and are subject to change without prior notification. Groups are limited to 85 people. Bring your own firewood since collection of firewood within the park is prohibited. Fires are limited to furnished fire pits only. Bring your own water to extinguish fires when leaving.
The site can only be used from sunrise to midnight and overnight use is prohibited. There are many amazing view points, but there are areas at the extreme edges of the canyon with no guard rails. Guests must be careful and children must be carefully watched at all times.
There are parking limitations but shuttles can be arranged. When the site is reserved, the general public is restricted from the area. The public may hike into Shoshone Point when not reserved during the specified season, but is open to public entry from October 16 to April 30. But the facilities may not be used without an approved permit.
See the complete guidelines of use.
Information Contact Point
Grand Canyon National Park
ATTN: Special Use Permits
P.O. Box 129
Grand Canyon, AZ 86023
Telephone: 928-638-7707
Fax: 928-638-7701
Special Use Permit
Directions To Shoshone Point. There is an unsigned turn-off on the north side of Desert View Drive (Highway 64) 1.2 miles (1.9 km) east of Yaki Point Road and just west of mile marker 246. A locked gate will limit access to the unpaved, single lane road that leads one mile into the forest to the event area.
Shoshone Photo Gallery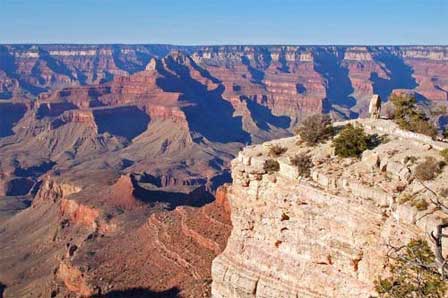 Shoshone Overlook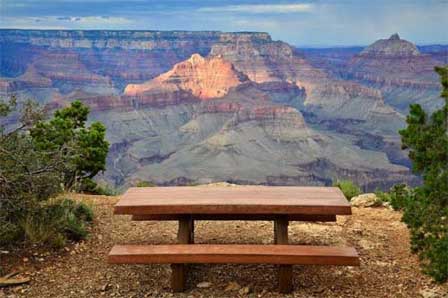 Is there a more perfect spot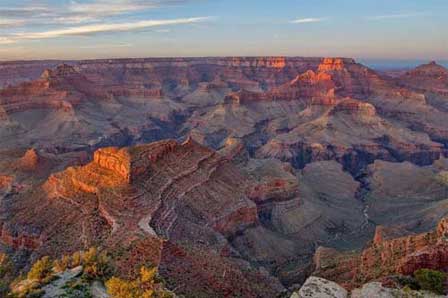 Sunset at Shoshone Point
Relevant Information
Annual Average South Rim Temperatures
Map Directions To The Grand Canyon South Rim
Desert View Scenic Drive
Next South Rim Overlooks
To The East: Grandview Point
To The West: Yaki Point