Driving to the Grand Canyon South Rim is a sightseeing adventure itself with many scenic points along the way depending upon your origination point. Most visitors to the South Rim for the day come from Flagstaff, Sedona, Williams and even the Phoenix and Scottsdale area. The busiest time is during the peak summer months when the South Rim Grand Canyon Village is the most congested.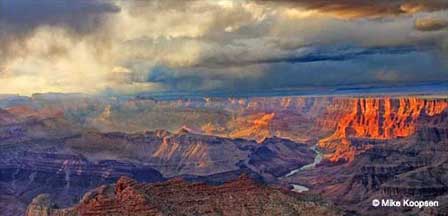 You can choose to enter from the Main South Gate or the Desert View East Gate which is more tranquil with much less traffic. The views are equally spectacular at the East Rim. Both sides are connected by 26 mile Desert View Scenic Drive. Many prefer to take a guided tour leaving the driving to a tour guide.
South Rim Directional Maps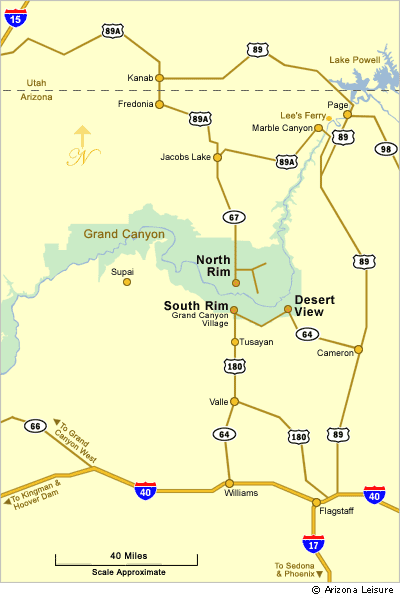 Directions To The Grand Canyon South Rim
During the winter months, extreme weather conditions with heavy snow and icy roads, may force closure of the roads to the Grand Canyon. Call Grand Canyon National Park at (928) 638-7888 or this website for road conditions.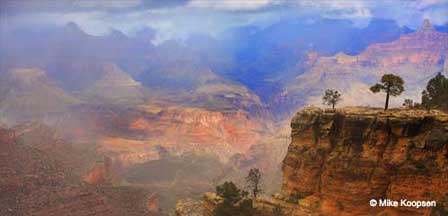 From Flagstaff AZ. There are three routes. Each is about 80 miles or slightly less.
1. I-40 Interstate West to Williams, AZ. Then Highway 64 North to the South Main Entrance to Grand Canyon Village.
2. Highway 180 West to Valle. Then Highway 64 North to the Main Gate.
3. Highway 89 North to Cameron. Then Highway 64 to Desert View East Gate.
From Williams AZ. 63 Miles. Highway 64 to the South Rim Main Entrance.
From Sedona AZ. About 120 Miles. Highway 89A up Oak Reek Canyon to Flagstaff. Then choose one of three options from Flagstaff, Arizona.
From Phoenix and Scottsdale Area. About 230 Miles. Take I-17 Freeway North to Flagstaff, then choose one of three route options from Flagstaff.
From Las Vegas Nevada. About 278 Miles. Highway 93 South to Kingman, AZ. Then Interstate 40 to Williams, Arizona. At Williams take Highway 64 to the South Rim Main Entrance.