Grand Canyon North
Rim Map & Directions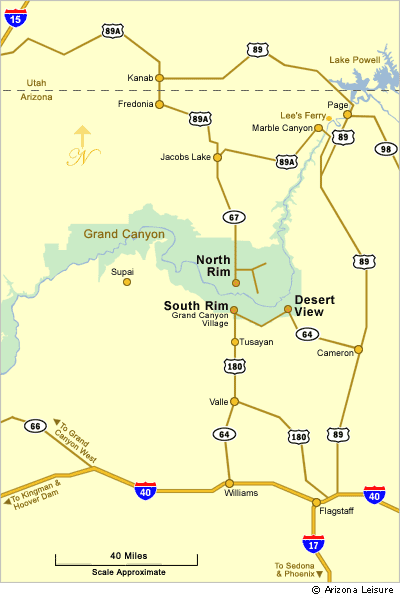 Directions To The North Rim
The entrance to the North Rim of the Grand Canyon is about 30 miles south of Jacob Lake, Arizona and about 207 miles north of Flagstaff AZ.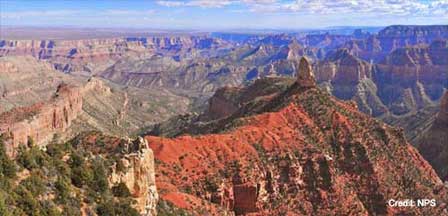 From Zion National Park. Take Highway 9 to Mt. Carmel Junction, then turn south on Highway 89 to Kanab, Utah. At the stoplight in Kanab, Highway 89 turns into Highway 89A. Continue on US 89A to Jacob Lake (about 36 miles), then take Highway 67 to the entrance of Grand Canyon North Rim.
From Flagstaff. Take US 89 North to US89Alt. Take US89A West to Highway 67. At Jacob Lake, turn South on Highway 67 and continue to the entrance to the North Rim. Total one-way trip is about 207 miles (333 km).
The Spectacular Grand Canyon
Related Grand Canyon Interest
Grand Canyon National Park
Grand Canyon Airplane Tours
Average Temperatures South Rim
Bright Angel Trail
Desert View Watchtower
Grand Canyon Camping
Grand Canyon Deer Farm
Grand Canyon Desert View Map
Grand Canyon Jeep Tours
Grand Canyon Pictures By Koopsen
Grand Canyon Mule Ride
Grand Canyon Private Tours
Grand Canyon Rafting
Grand Canyon South Rim Trail
Grand Canyon Winter Pictures By Koopsen
Grandeur Point South Rim
Grandview Point South Rim
Havasu Falls Pictures
Havasupai Indians
Grand Canyon Helicopter Tours
Hiking Bright Angel Trail
Lipan Point South Rim
Mather Point South Rim
Moran Poinf South Rim
Navajo Point South Rim
North Rim Map
One Day Mule Ride
Robert Body Grand Canyon Pictures
Scenic Canyon Tours
Shoshone Point South Rim
South Rim Grand Canyon Directions
South Rim Hours & Entrance Fees
Grand Canyon Summer Hiking
Trail Of Time South Rim
Visiting Grand Canyon In Winter
West Rim Map
Yaki Point Grand Canyon
Yavapai Point Geology Museum