Helicopter Tours of The Grand Canyon Originating From The South Rim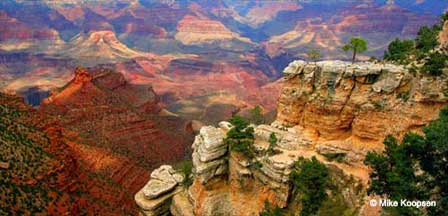 Experience an amazing way to tour the Grand Canyon. Views from above one of the World's Seven Wonders that will mesmerize the senses. Choose from two helicopter tour companies based at the Grand Canyon Airport. The helicopter rides offered by both feature many of the same views with a primary difference in duration of the rides and respective fees.
Maverick Helicopter: Canyon Spirit Tour
This is a 45 to 50- minute tour of the Grand Canyon by helicopter. It lifts off from the Grand Canyon Airport at Tusayan, just a few miles from the Main South Entrance to the South Rim. Fly over the Kaibab National Forest and the edges of the South Rim as the North Rim and East Rim comes into view. Your adrenalin rush intensifies with each dramatic view of the canyon.
Catch distant scenes of Desert View Watchtower, the vast Painted Desert on the Navajo Indian Reservation, and where the Little Colorado River joins the the big Colorado River as it begins entry into the Grand Canyon.
See Marble Canyon, the Vermillion Cliffs and then Point Imperial as you climb above the North Rim with astounding bird's eye views. And then soar through Dragon Corridor, the widest and deepest part of the Canyon. Pass-over the Colorado River and back to the airport to complete about a 50-minute tour. Visit the Maverick Helicopter website for more information.
Papillon Helicopter: North Canyon Tour
A narrated 25 to 30-minute Grand Canyon helicopter tour over the South, Central and North views of the canyon. Departs from the Grand Canyon Airport and rises above the Kaibab National Forest right before reaching the first exhilarating views of the Grand Canyon.
The flight makes a complete loop so guests on either side of the helicopter will see the same incredible scenes. Peer through the large windows as you fly over the Colorado River to the North Rim. View of the Tower of Ria and Vishnu Schist come into view as you fly back though the Dragon Corridor and return to the airport. Visit the Papillon website for prices and detailed information.
The Spectacular Grand Canyon
Related Grand Canyon Interest
Grand Canyon National Park
Grand Canyon Airplane Tours
Average Temperatures South Rim
Bright Angel Trail
Desert View Watchtower
Grand Canyon Camping
Grand Canyon Deer Farm
Grand Canyon Desert View Map
Grand Canyon Jeep Tours
Grand Canyon Pictures By Koopsen
Grand Canyon Mule Ride
Grand Canyon Private Tours
Grand Canyon Rafting
Grand Canyon South Rim Trail
Grand Canyon Winter Pictures By Koopsen
Grandeur Point South Rim
Grandview Point South Rim
Havasu Falls Pictures
Havasupai Indians
Grand Canyon Helicopter Tours
Hiking Bright Angel Trail
Lipan Point South Rim
Mather Point South Rim
Moran Poinf South Rim
Navajo Point South Rim
North Rim Map
One Day Mule Ride
Robert Body Grand Canyon Pictures
Scenic Canyon Tours
Shoshone Point South Rim
South Rim Grand Canyon Directions
South Rim Hours & Entrance Fees
Grand Canyon Summer Hiking
Trail Of Time South Rim
Visiting Grand Canyon In Winter
West Rim Map
Yaki Point Grand Canyon
Yavapai Point Geology Museum