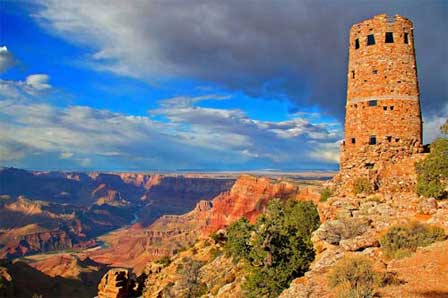 Desert View Watchtower. © Mike Koopsen
As the first view of the Grand Canyon South Rim when you enter the East Gate, the Watchtower delivers visions of the ancient Anasazi that lived in the Canyon and Southwest thousands of years ago. Designed by Mary Coulter and built in 1932, the Watchtower is a re-creation of an Anasazi Watchtower based upon primitive architectural ruins discovered in the Four Corners Region.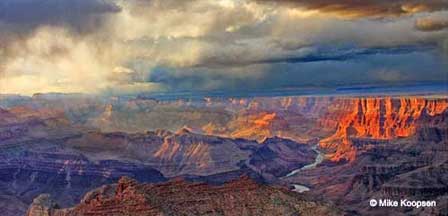 Located at the Desert View Point, the Watchtower, exudes the presence of an ancient people that were the Canyon's earliest inhabitants. It retains the aura of times long past that combines a natural blending of ancient form with structure of more modern times. It rises tall as an artistic masterpiece of history.
It seems to stand guard over a majestic landscape that took millions of years to create. Rising 70 feet with a 30 foot base, the climb to the top rewards with the perfect viewpoint of awe-striking panoramas that will evoke deep emotions that solidify a bond between nature and ancient humanity.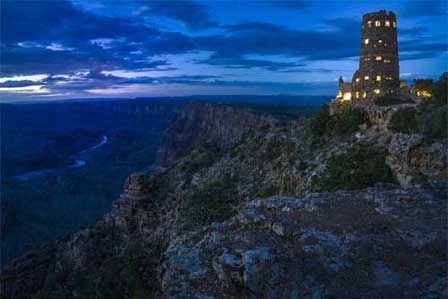 Watchtower at Sunset. © Rick Burress Artistech.com
With its rich color palette and dramatic scenes, wayfarers trek from one edge of the Canyon to the other in search of that priceless landscape that confirms the existence of something greater than themselves. While vantage points can be found throughout Grand Canyon National Park, nowhere does form meet function so effortlessly or quite so beautifully as it does from the astounding views at the top of Desert View Watchtower.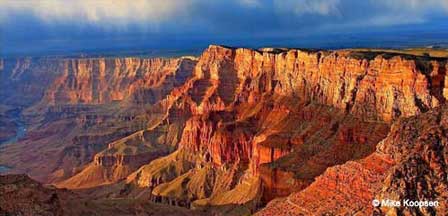 When reaching the top of the Tower, you will see the Canyon from the highest point at the Grand Canyon South Rim. With 360 degree views, your eyes will be rewarded with views to the farthest reaches of the Canyon. To the west, across to the North Rim, and to the east where Colorado River begins its journey into the Grand Canyon.
Many tourists will stay here for hours quietly sitting an absorbing nature's most breathtaking scenes. Experiencing Native American art that embodies the history of ancient peoples. Perhaps within these walls, built of original stone, hold the secrets of what life was once like at the Grand Canyon. Undoubtedly that was the vision of Mary Coulter when she designed the Desert View Watchtower in 1932.