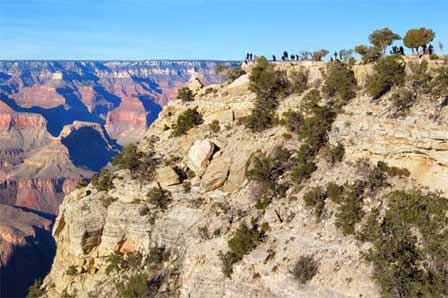 Grandeur Lookout Point
Grandeur Point. Yet another well-kept secret secluded lookout point at the Grand Canyon South Rim. Grandeur Point is not well-marked. Could it be that the Grand Canyon National Park prefers to keep it a secret?
Where Is Grandeur Point?
It is located about 1/2 mile west of Yavapai Point along the Trail of Time portion of the South Rim Trail about 1/2 mile west of the Yavapai Museum of Geology. There is no road access to the Point and requires a short easy hike to reach this short promontory that projects westward views of the Canyon. Very few realize it exists since it doesn't show on most maps. Less crowds means a more tranquil experience.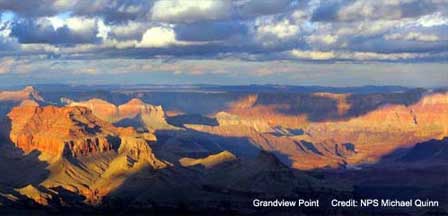 The Experience
Because of its relative seclusion, it is a popular spot for weddings and other special occasions. The views are amazing where one can look down at the entire length of the Bright Angel Trail along Garden Creek that extends to Plateau Point. See the trail switchbacks next to Grand Canyon Village as it reaches the Indian Garden Rest Stop near the lower-end of the Colorado River far below the lookout point.
Wedding Permit To Use Grandeur Point
Grandeur Point can be reserved for weddings and requires a reservation deposit. At the time this article was written, a permit does not grant sole use of the area and public access cannot be restricted. Parking at Yavapai Point is very limited so guests are encouraged to carpool.
Information
Grand Canyon National Park
PO Box. 129
Grand Canyon, Arizona 86023
(828) 638-7707
Related Interest
Map of Overlook Points Near Grand Canyon Village
Grand Canyon South Rim Average Weather
Grand Canyon South Rim
Next South Rim Overlooks
To The West: Historic District
To The East: Yavapai Point