Yavapai Point is the northernmost overlook at the South Rim of the Grand Canyon and includes Yavapai Observation Station which is now referred to as the Yavapai Geology Museum. Of the three overlook points within the Grand Canyon Village (Mather, Yavapai, and Yaki), Yavapai Point features the best panoramic views across the canyon.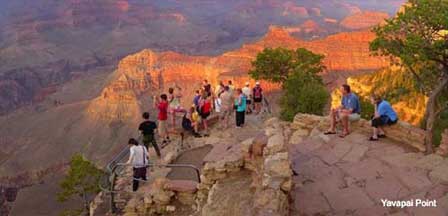 It provides the closest views of the Colorado River far below the rim with unobstructed scenes up and down the river gorge. Tourists can see Plateau Point which is reachable by a branch of the Bright Angel Trail. Mather Point is just 0.7 miles east of Yavapai Point along the Rim Trail. To the west is the Trail of Time, a journey with exhibits that detail the geological history of the Grand Canyon.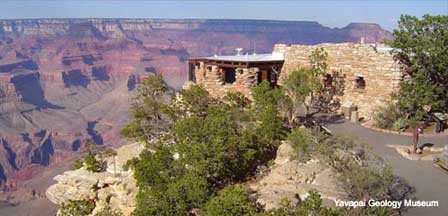 There is limited public parking at Yavapai Point and vehicles longer than 22 feet are prohibited. During peak season, it is difficult to find a parking spot at the Point. Options are parking at the Grand Canyon Visitor Center and catching the free shuttle to Yavapai Point. Or walk just a 0.7 mile from Mather Point west on the Rim Trail. Yavapai is also a shuttle stop.

View from Inside Yavapai Geology Museum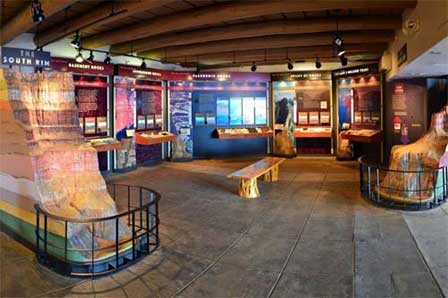 Yavapai Station Exhibits

Rim Trail Near Yavapai Point
Related Visitor Information
Map of Overlook Points Near Grand Canyon Village
Grand Canyon South Rim Average Weather
Desert View Scenic Drive
Grand Canyon South Rim
South Rim Trail
Trail of Geological Time
Yavapai Geology Museum
Adjacent to Grand Canyon Village
Grand Canyon National Park, AZ 86023
Hours: 8 AM to 8 PM (Varies During Winter)
Entry Cost: Free
Next South Rim Overlooks
To The West: Grandeur Point
To The East: Mather Point