Grand Canyon South Rim Operating Hours, Seasons and Fees
South Rim Open Hours
Grand Canyon Village and Desert View at the Grand Canyon South Rim remain open all year. The Main South Gate and East Gate at Desert View are open 24 hours every day. However, sometimes during winter extreme inclement weather roads to the entrances may close due to icy conditions. Call (928) 638-7496 for current road conditions.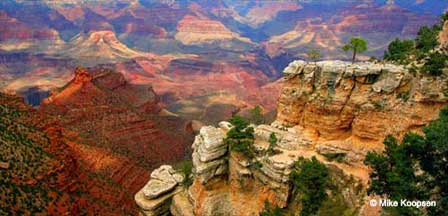 Most visitor services including lodging, restaurants and the shuttle bus system always remain open. Mather Campground and Trailer Village RV Park are open all year. Desert View Campground is generally open from Mid-May to Mid-October.
Grand Canyon South Rim Campgrounds
Grand Canyon South Rim Weather and Temperatures
South Rim Map: South and East Entrance
Best Seasons To Visit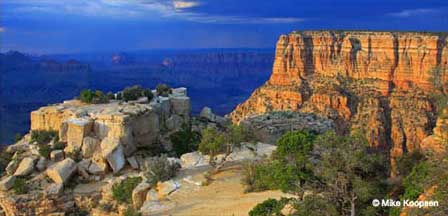 The most crowded times of the year are Late Spring, Summer, and Fall Months, particularly during the summer peak vacation season. Least crowded times are Early Spring, Late Fall and Winter months. Heavy snow could result in closed roads to both South Rim entrances. If you prefer more solitude, Desert View (East End) is always the least crowded at any given time. Most agree the views of the Canyon from Desert View are equal to, or better than those at Grand Canyon Village.
Entrance Fees To Grand Canyon National Park
At time of this article, the entrance fee per vehicle is $25 and non-refundable. When entering by foot, bicycle, motorcycle or non-commercial group, the fee is $12 per person. Admission is valid for seven days and includes visiting the Grand Canyon North Rim as well. Fees are subject to change without notice.
Camping fees, lodging, private tours and concessions are additional. Shuttle buses are complimentary within the Grand Canyon Village area and its nearby overlook view points.
Free Entrance Days. Entrance fees are waived on Martin Luther King Jr. Day, President's Day, Opening Weekend of National Park Week, On National Park Service Birthday, and Veteran's Day.
The Spectacular Grand Canyon
Related Grand Canyon Interest
Grand Canyon National Park
Grand Canyon Airplane Tours
Average Temperatures South Rim
Bright Angel Trail
Desert View Watchtower
Grand Canyon Camping
Grand Canyon Deer Farm
Grand Canyon Desert View Map
Grand Canyon Jeep Tours
Grand Canyon Pictures By Koopsen
Grand Canyon Mule Ride
Grand Canyon Private Tours
Grand Canyon Rafting
Grand Canyon South Rim Trail
Grand Canyon Winter Pictures By Koopsen
Grandeur Point South Rim
Grandview Point South Rim
Havasu Falls Pictures
Havasupai Indians
Grand Canyon Helicopter Tours
Hiking Bright Angel Trail
Lipan Point South Rim
Mather Point South Rim
Moran Poinf South Rim
Navajo Point South Rim
North Rim Map
One Day Mule Ride
Robert Body Grand Canyon Pictures
Scenic Canyon Tours
Shoshone Point South Rim
South Rim Grand Canyon Directions
South Rim Hours & Entrance Fees
Grand Canyon Summer Hiking
Trail Of Time South Rim
Visiting Grand Canyon In Winter
West Rim Map
Yaki Point Grand Canyon
Yavapai Point Geology Museum